City News & Events
Glenn Groundwater Authority Encourages Water Conservation
The Glenn Groundwater Authority (GGA) is encouraging you to help our groundwater basin by conserving water. Their latest press release states that over 97% of Glenn County is in extreme drought. 
They challenge you to do your part in helping to conserve our precious water resources. No matter what you use water for, we are all in this together and every drop counts! Visit their website to access additional tips, information, and resources.
---
General Municipal Election – November 8, 2022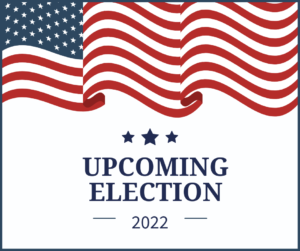 The City of Orland General Municipal Election will be held on Tuesday, November 8, 2022, as two City Council seats will be considered by the voters.  The two incumbents whose terms will expire in December are: Mayor Dennis G. Hoffman, Councilmember William "Billy "Irvin.  The term of the office will begin Tuesday, December 6, 2022, and ends in December 2026.  Nomination papers will be available on the first day of the nomination period, Monday, July 18, 2022, from the City Clerk's office in City Hall.  You must make an appointment with the City Clerk prior to obtaining your nomination papers.  Deadline to return the papers is August 12, 2022.   Office hours are Monday through Friday, 9:00 AM to 5:00 PM.  You may email the City Clerk at jtschmitke@cityoforland.com or call (530) 865-1610 to make an appointment.  Interested candidates must be 18 years of age, a citizen of the United States, and a registered voter residing within the city limits.
---
Water Conservation & Shortage Contingency Plan
Orland City Council, at the March 15, 2022 meeting, adopted a resolution moving Orland from Stage 1 to Stage 2 of the Water Conservation and Shortage Contingency Plan – effective May 1, 2022.
What does this mean for customers?
Watering or irrigation of lawn, landscape or other vegetated areas is limited to 3 days a week and only between the hours of 8pm and 8am.

Properties North of Walker Street/SR32: Sundays, Wednesdays and Fridays
Properties South of Walker Street/SR32: Saturdays, Tuesdays and Thursdays

Stage 2 tier rating will be applied:

Base Rate of $63.31 (City limits), $123.22 (Outside city limits) – Includes first 15,000 gals
Tier 2: $2.00/1,000 gals – 15,001-23,000
Tier 3: $4.00/1,000 gals – 23,001-30,000
Tier 4: $6.00/1,000 gals – 30,000+
Our objective is a 25% reduction in water as a community. Conserving water now will help in the future, so let's all work together and save water today, for our tomorrow.
—
El ayuntamiento de Orland, en la reunión del 15 de Marzo de 2022, adoptó una resolución que traslada a Orland de la etapa 1 a la etapa 2 del plan de contingencia de conservación y escasez de agua a partir del 1 de Mayo de 2022.
¿Qué significa eso para los clientes?
El riego o irrigación del césped, jardines u otras áreas con vegetación se limita a 3 días a la semana y solo entre las 8:00 p. m. y las 8:00 a. m.

Propiedades al Norte de Walker St/ SR32 Domingo, Miércoles y Viernes.
Propiedades al Sur de Walker St/ SR32 Sábado, Martes y Jueves.

Se aplicará el nivel de la etapa 2

Tarifa básica de $63.31 (límites de la ciudad), $123.22 (fuera de los límites de la ciudad) Incluye los primeros 15,000 gal
Nivel 2: $2.00/1,000 gals – 15,001-23,000
Nivel 3: $4.00/1,000 gals – 23,001-30,000
Nivel Tier 4: $6.00/1,000 gals – 30,000+
Nuestro objetivo es una reducción del 25% en el agua como comunidad. Conservar agua ahora ayudará en el futuro, así que trabajemos todos juntos y ahorremos agua hoy para nuestro mañana.
---
Orland Area Water Supply Project
The California Department of Water Resources is funding the Orland Emergency Water Connection Project to provide a permanent, safe, and reliable household water supply to selected areas surrounding the City of Orland by expanding and extending the City's water distribution system outside the city limits. Many property owners surrounding the City of Orland have been offered the choice to connect FREE OF COST to the City of Orland Water System. This project is being offered to residential homes within certain areas, whether or not they have experienced a dry well. The latest press release has additional information.
For short term water solutions please review this press release, also available in spanish.
---
California's Organic Waste Regulations
Senate Bill 1383 is part of a statewide effort to reduce the emissions of short-lived climate pollutants (like Methane gas) in various sectors of California's economy. Check out this flyer for more information. Have any questions? Reach out to the Glenn County Public Works by email at solidwaste@countyofglenn.net or by phone (530)934-6530.
---
Housing Element Update
Community Meetings were held on June 23rd 2021 and on August 5th 2021. These meetings allowed for citizen input on the Housing Element Update, which is a community plan for all types of housing for the next eight years. Resources from the the two meetings are available on the Housing Element Update webpage.
---
Managing Water Resources
The City of Orland declared a Drought State of Emergency in 2021 and determined Orland to be in Stage 1 of its 4-stage Water Shortage Contingency Plan. This 2014 document was  updated and adopted by the City Council July 6th, 2021. The Plan addresses water conservation targets and actions to achieve those targets.
Restrictions on use of water for landscape irrigation, and tiered cost increases for higher volume water consumption, can be expected if/when the City enters Stage 2. Water levels of all City groundwater wells are being checked weekly and tracked carefully. So far, our municipal wells are in good shape.
Orland residents can take pride in their continued conservation of water since the last drought, saving 22-30% per year every year compared to the benchmark 2013. That's a savings of around 200 million gallons per year! 2021 water usage was 29% below that of 2013, and 12% below that of 2020 for the all-important Jul-Nov timeframe. We need to continue to look for ways to reduce unnecessary water usage as we manage our resources through this drought.
The City continues to defer shut-offs for nonpayment, started last year in recognition of economic challenges due to Covid. If you are having trouble affording your water bill, please contact City Hall to arrange a payment schedule.
For those property owners in our community whose domestic wells have dried up, the City of Orland and State DWR have options and resources for a limited time. Call Jennifer at 865-1610 for more info.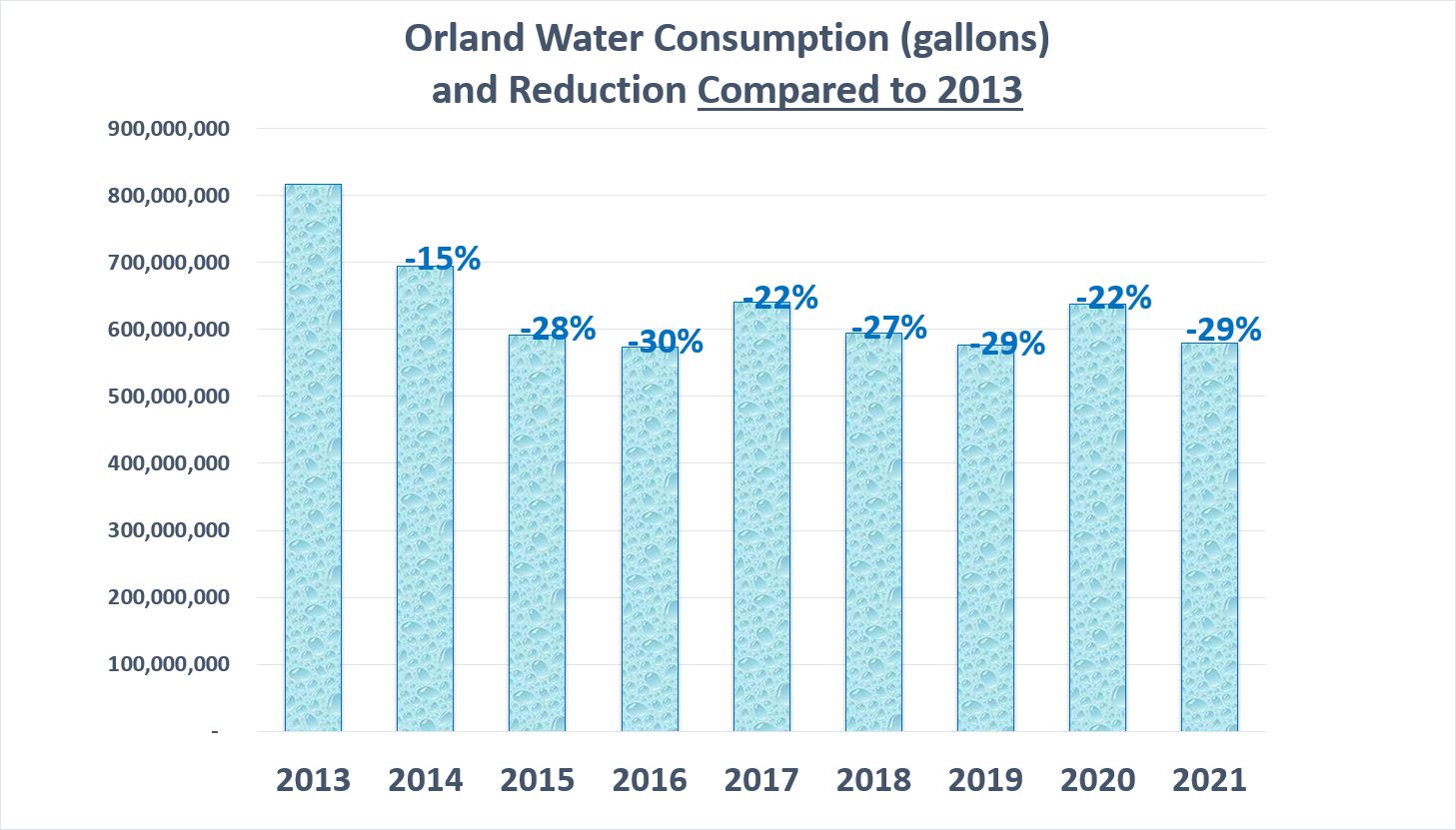 ---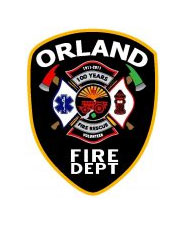 Orland Fire Department – Insurance Rating Improves!
The latest press release announces that the Orland Fire Department's protection rating has improved. The new rating indicates superior access to fire suppression facilities, water, equipment and personnel.
---
Latest Consumer Confidence Report Available
The 2021 CCR is now available for viewing. Any questions, or to receive a paper copy, please contact Jennifer Schmitke, Public Works, at (530) 865-1610.
---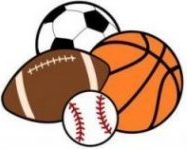 Recreation Department – Online Registration Now Available!
The Recreation Department will now be utilizing recdesk, an online registration tool, for park and pool reservations as well as program registration. Please contact the Recreation Director, Joe Fenske at (530) 865-1630 if you have any questions or are in need of assistance.
---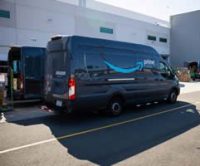 Amazon Delivery Station – Opened in Orland
A new Amazon Delivery Station opened in Orland in April 2021 and is currently up and running. The facility is located at the Orland Airport Industrial Park and it offers up approximately 100 to 150 new full-time and part-time jobs within the warehouse and approximately the same number of employees as delivery drivers. For more information, check out this article! Job description and application process are available online.
---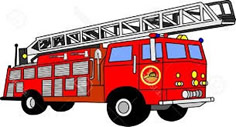 Measure A Report for 20-21 Fiscal Year
The Measure A Report is a local sales tax report that states the income and expenditures for the fiscal year ending June 30, 2021. The sales tax measure was voted in by the Orland Community in 2016. This report continues to be published each year in an effort to provide transparency to Orland's citizens.
---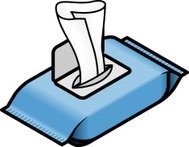 No Wipes in the Pipes!
With many residents turning to paper towels, napkins, and flushable wipes as alternatives to toilet paper it is important to remember to not flush these items down the toilet!
These materials can cause serious issues for your own pipes and also for the City's Wastewater System. Disposable disinfectant wipes, baby wipes, and even so‑called "flushable" wipes do not break down easily (or at all) once they are flushed. Paper products other than toilet paper do not break down once in the sewer line. No matter what the label says, don't flush them, trash them instead.
When these wipes and other materials interact with fats, oils, grease or invasive roots in the sewer, they bind together, causing blockages and creating the potential for overflows. Sewer backups can be both messy and costly to clean up. When these items are flushed, our sewer pipes and pump stations require increased monitoring, maintenance, and repair. This increases operational costs, which are paid for by your sewer rates. If wipes and other materials can clog our large sewer pipes, they can definitely clog your home's much smaller pipes too, requiring you to hire and pay a plumber to clear that blockage.
Please help spread the word! Tell your family members to only flush toilet paper and nothing else. At work, you can help by posting notices in bathrooms and other places where paper towels, wipes, or rags might be used or disposed of. With your help we can prevent any issues from occurring during this already difficult time.
Remember…"Trash 'em, don't flush 'em!"
---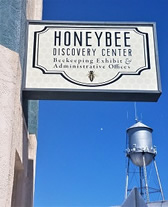 Orland's Honeybee Discovery Center is Open!
The first interactive exhibit and museum of its kind will be opened in Orland at the corner of Walker and Fifth Streets. The Honeybee Discovery Center will teach the importance of pollinators in our environment, share the history of beekeeping and offer a pollinator garden. The gallery will be opened the First Friday of the month from 3 to 7PM.
---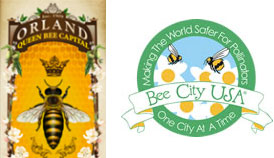 City of Orland – 40th Bee City USA and Queen Bee Capital of North America!
Press release and a short news clip from KRCR TV news.
Orland Center for the Arts & Gallery