"Community Supported; Dedicated to Education, Prevention and Enforcement"
To keep up to date with the Orland Police Department K9 Unit check out their Facebook page!
Donations are greatly appreciated and can be made in person or online!
---
Why a K9 Program?
Police K9's are some of the hardest working, most efficient and cost effective Officers on the beat. A Police K9 performs 97% of its work with its nose and mere presence. However, a Police K9 is much more. With community support, the Orland Police Department K9 will be used as an effective education and prevention tool for our youth. We will use our K9 partner in classrooms of the Orland Unified School District to promote drug awareness, Firearm awareness and safety, as well as violence education and prevention. We will work hand and hand, or hand in paw, with the community to promote success and bright futures for our children.
In 2011, the Orland Police Department recognized the benefits that a Police K9 could provide in maintaining a safe and secure community.  In the past the City of Orland has relied on mutual aid from surrounding agencies to provide K9 assistance.  Once, this assistance came from as far away as the Anderson Police Department.  In response to the growing need for enhanced law enforcement tactics and increased efficiency combined with maximum safety the Orland Police Department initiated a feasibility study regarding the implementation of a K9 program. Later that year, based on the research it was recommended to the Orland City Council that a K9 program be initiated.  Due to the tight budget, the city could not fund the program.  The Orland Police Department turned to the community of Orland for support through fundraising and donations.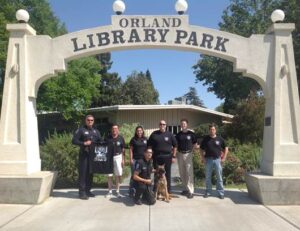 K9  FUNDRAISER 2013
On May 20, 2013 the Orland Police Department regretfully had to retire its K9 'Rakker' due to a disabling medical condition.  The Orland Police K9 Program began a new fundraising drive selling T-shirts and sweatshirts to fund the purchase, training, and ongoing maintenance of a new K9.  With generous donations from Vigilant Canine Services International of Red Bluff, Matson and Isom Technology Consulting of Chico, Omega 3 Walnuts of Orland, La Perla Tapatia of Orland and Guero Store of Orland, the Orland Police K9 Program was able to purchase a new K9 'RUGER', a Belgian Malinois.
The Orland Police K9 Program is continuing to sell 'K9 Program Support' T-shirts and sweatshirts at the Orland Police Department to further fund the K9 Program expenditures.  T-shirts are $15.00 sizes M-XL, $17.00 for XXL, sweatshirts are $30.00 for L-XL.  The Orland Police K9 Program is fully funded through donations and fundraising drives.
K9 RUGER began patrolling the streets of Orland with his partner, Officer Grant Carmon in 2013.
K9 MIKY began patrolling the streets of Orland with his partner, Officer Bryan Simpson in 2015 after the completion of an intensive training program.
Since its inception, the K9 team has strived to make a significant impact on the community. The team trains every month to maintain and enhance its skills.  Thousands of miles have been patrolled through both industrial and residential areas of Orland. The K9 team has successfully induced the peaceful surrender of several felony violators.  They have found narcotics and assisted in the execution of search and arrest warrants.  The Orland Police Department hopes to instill a secure feeling in the heart and minds of the citizens of Orland when they see the "Police K9" patrolling their City and a thought of greater moral judgment on those who prey upon society.
If you would like more in depth information on the Police K9 team feel free to contact the Orland Police Department at 530-865-1616.  Community outreach through education and prevention are two of the three founding pillars of the program.  The Orland Police K9 team will continue to collect donations and conduct fundraisers as needed in the future. Visit on facebook and learn more OrlandPdK9Unit
Any questions, please e-mail opdk9unit@cityoforland.com
RUGER RECEIVES K9 VEST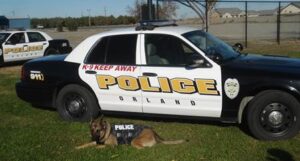 On August 24th "Vested Interest in K9's" held a fund raiser in Modesto to raise money for K9's in California.  The event raised enough money to fund vests for Ceres Police Department as well as the vest for Orland Police Departments K9 Ruger.  The nonprofit organization was organized in 2009 to assist law enforcement agencies with this potentially lifesaving body armor for their four legged K9 Officers.  Through private and corporate sponsorships, "Vested Interest in K9's, Inc." has provided over 435 law enforcement dogs with protective vests.  For more information about this program visit www.vik9s.org or call 508-824-6978.
Ongoing K9 Fundraisers and Events
Follow the Orland PD K9 Unit on Facebook for upcoming events OrlandPdK9Unit