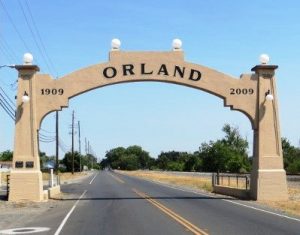 Orland is primarily a residential community that has maintained the small town character one might envision for such a community of fifty years past.
Located in the northeast portion of Glenn County, the beginnings of the City were rooted in cattle ranching, which was established by Granville P. Swift in the late 1840's. By the early 1870's grain production in the area led the Central Pacific Railroad to lay track from Colusa County to Red Bluff. In 1878, the townsite of Orland was laid out by the Chamberlain brothers; two years later, the management of this townsite was taken over by the railroad. Stores and warehouses for local ranchers created residents for the new settlement, and in 1880, the census showed the population of Orland to be 292.
By 1890, changes occurred when land started to be irrigated from Stony Creek. Finding that water supply to be not reliable enough, farmers shifted to dairying and orchard crops.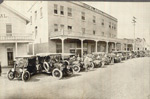 By the 1920s, Orland's population had reached 1,600 and the town had taken on a more settled appearance, with large and small commercial entities lining the streets of downtown Orland, which at this time were also beginning to be paved. Many farmers soon prospered after the arrival of the Orland Project and the formation of the Orland Unit Water Users Association (OUWUA) which celebrated 100 years of organization in 2007. Most of the open ditches that were used to deliver water have been covered, but some outlying areas of town still use project water for their irrigation needs.
One of the fastest growing cities along Interstate 5, it boasts an ever growing population of 7,932 (Dept. of Finance 2018). Orland is a town with a fascinating history, rich traditions, and a diverse population.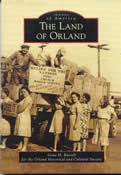 For more information on the history of Orland, the Orland Free Library has books written by a local historian that
can be checked out. One of the books, The Land of Orland, features many pictures showing the beginnings of the community and past businesses.
The City
Orland has a strong city government operating under a Council-Manager form of government. The Council is comprised of five Council members elected at large which selects the mayor from among its members. The management team is comprised of the City Manager and the City's Department Directors organized into the following departments: Administration, Community Development Services, Finance, Library, Public Works, Parks and Recreation and Police. Fire service is provided by an all volunteer fire district with City assistance. The City has 38 employees and a general fund portion of $4.4million in the 2018-19 total budget .
In the state legislature Orland is located in the 4th Senate District, represented by Republican Jim Nielsen, and in the 3rd Assembly District, represented by Republican James Gallagher. Federally, Orland is located in California's 3rd congressional district, and is represented by Democratic John Garamendi.
Orland's schools are comprised of 2300 K-12 students in two elementary schools (K-2 & 3-5), one intermediate school (6-8), one high school (9-12), one continuation high school (9-12), two community day schools (K-6 & 7-12) and an independent study program.
The area offers a wide variety of outdoor activities. Orland has wide tree-lined streets, a safe and quiet environment and approximately 55 acres dedicated to public parks. A short drive to Black Butte Lake and you can be wind surfing, camping, fishing, water skiing, boating, swimming, bird watching or sail boating.
The close-knit sense of community in Orland is evident during the annual Fourth of July Picnic sponsored by the Historical Society, the county fair, December Avenue of Lights and other holiday events and occasions which draw the community together. It is a great place to live, raise a family, and enjoy everything a small town can offer.
Physical Description and Location
Orland is located in the northern Sacramento Valley, County of Glenn area, along Interstate 5 and US99W, sixty miles south of Redding and 100 miles north of Sacramento. Black Butte Lake is eight miles west, nestled between the basalt buttes and stretches nearly seven miles up to Stony Creek. Chico, home of a California State University, is twenty miles to the east on State Route 32. The main campus of Butte-Glenn Community College is also located east, in Oroville, but its Glenn County Center is located in Orland. The county seat, Willows, is located 15 miles to the south.
The climate of Orland is characterized by hot, dry summers and moist, mild winters. Mean monthly temperature exceeds 75 degrees from June through September, with more than a few days in excess of 100 degrees. The environmental conditions of Glenn County are conducive to potentially adverse air quality conditions. The basin area traps pollutants between the two mountain ranges, which is exacerbated by a temperature inversion layer that traps air at lower levels. The winter climate is a mild 50 degree mean monthly temperature from December through March. Night temperatures can occasionally drop below freezing. The frost-free annual growing period is about 280 days. The rainy seasons extends from October through April, with average rainfall of approximately 20 inches.